Cub Scouts learn the importance of car maintenance in Milan, Michigan
Here at Victory Chevrolet Buick, we're proud to have a long-standing relationship with Webelows 2 Cub Scouts of Milan's Pack 941. And when it comes time for the scouts to earn their Handyman Activity Badge, Victory Chevy is the place to go!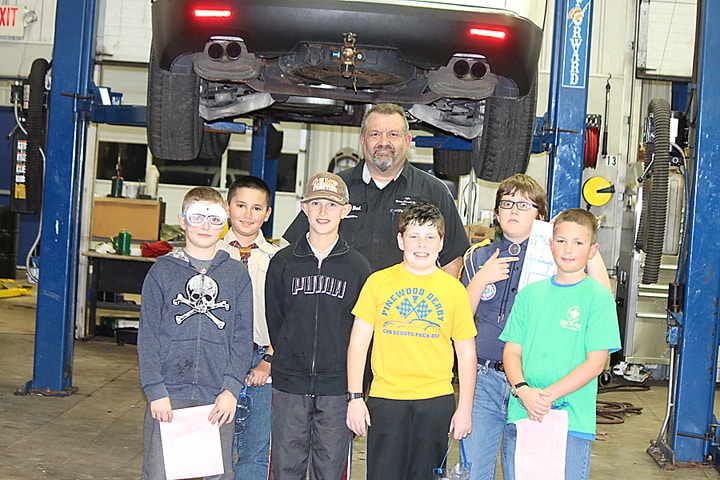 Our service department is more than happy to show the scouts how to change a tire, check and change their oil, replace a light bulb, as well as showing them the underbody and mechanical operation of a vehicle that the average person usually doesn't see.
Our service technicians also teach and show the scouts about the importance of safety, including how to properly change a tire on the side of the road.
Step 1: Safety first. Pull off the road when possible into a driveway, parking lot or any place to get the vehicle out of traffic. If not possible to get off the road be sure to look up from working every little bit and keep an eye on traffic.
Step 2: Turn on flashers, set the emergency brake and obtain and activate any additional lighting or flare that might be in your emergency tool kit.
Step 3: Locate the tools to change the tire.
Step 4: Remove the spare tire and car jack from the trunk or undercarriage and have it ready to put on as soon as the original tire is removed.
Step 5: Jack the car up so you can safely remove the tire.
Step 6: Remove lug nuts and damaged tire then replace with the spare, replacing lug nuts as soon as possible.
Step 7: Replace the damaged tire and tools to the trunk and get off the road as soon as possible.
After the tire has been changed, our service techs quiz the scouts to ensure they fully understand the procedure, as well as having them ask any questions they may have about automobile maintenance.
The scouts also received a Multi-Point Vehicle Inspection check list so they could see all the items checked whenever a vehicle comes into Victory Chevy for service. Each item has a green, yellow and red section which designates whether the item is cleared for operation, needs attention soon or needs attention immediately.
By the end of their visit the scouts had all completed the knowledge required to receive their Handyman Activity Badge, thanks to the top-notch service department here at Victory Chevrolet Buick.
Visit Our Auto Repair Center Serving Ann Arbor MI
Come experience Victory Chevrolet Buick's service department for yourself! We provide car service, repair, scheduled maintenance, and much more.
Click here to schedule a service appointment today at Victory Chevrolet Buick at 1250 Dexter St. in Milan, MI, or give our service department a call at (888) 375-2574.
Source & Photo:
The Milan Eagle